About Us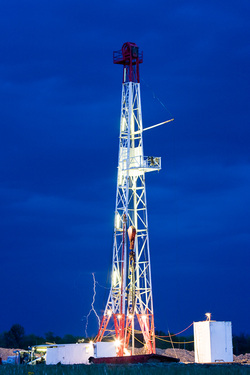 Murvin Oil Company is an independent production company engaged in the acquisition, exploration, development, and operation of oil and gas properties.

The company's primary focus lies within the state of Illinois, with our head office located in Olney, Illinois. Murvin Oil Company has been operating in the Illinois Basin since the beginning of Illinois's petroleum production, and is one of the oldest production companies in the state. Our experience and success have resulted in considerable growth and confidence in our firm's abilities.

Murvin Oil Company was founded in 1947 by John B. Murvin, and has been family owned and operated ever since. The company takes great pride in its recognized achievements and the reputation for setting the standard in the field. Both local and state agencies regularly ask for our counsel and service in all aspects of our business.

We have adopted company policies which have consistently led to continued growth and profitability through utilization of the expertise provided by our seasoned personnel. The diversity and experience of our staff has provided the catalyst to not only meet, but take advantage of the opportunities provided by the continuing changes encountered by the independent oil and gas industry. Our business approach to the oil and gas industry has always been conservative, taking into account time-proven methods blended with the most recent advances in science and technology to direct the company's activities.

Murvin Oil Company drills and develops multiple fields each year. The flexibility provided by strong operations in Illinois and good relationships with other businesses, as well as land owners has permitted our annual drilling program to enjoy continued success. Our staff and equipment permits us to directly control all facets of our business from originating a prospect through completion, equipping, and operating, thereby maximizing our investment. A working relationship with several major oil and gas companies has benefitted our company through profitable periods with the sharing of information and technology.

We feel the strong independent oil and gas producer will continue to play an important role in the development of our country's oil and gas reserves. Our prospects for continued growth are excellent and we are confident of the ability of our company to meet all future challenges and opportunities.
---
---
Management
Gregg C. Gibson - President
Gregg Gibson is the President and owner of Murvin Oil Company and oversees all of the company's operations. Mr. Gibson has been in the oil business for most of his life. Most of his career was spent overseeing the company's field operations in Illinois, including all facets of completion and production. In this highly specialized area of work, Mr. Gibson has gained an excellent reputation for his completion and production skills, and is regarded as one of the best in the industry. Mr. Gibson has been an active member in various capacities of the Illinois Oil and Gas Association, Olney Petroleum Club, and countless charities.

Anthony C. Gibson - Executive Vice President
Anthony Gibson is Executive Vice President and Petroleum Geologist for Murvin Company. Mr. Gibson assists in formulating both short and long term goals and objectives for the company, the implementation of which is his primary responsibility. He attended DePauw University from 1995 to 1999 and graduated with a B. A. Degree in Geology. In 2001, he received his M.S. Degree in Geology from the University of Illinois Graduate School. After graduate school Mr. Gibson returned to Olney and joined Murvin Oil Company to become the third generation to work for this family owned company. In 2002, Mr. Gibson established Gibson Supply, Inc. to provide local access to oilfield equipment and supplies, as well as lowering the cost of such equipment and supplies for its affiliate companies to maximize profit. Mr. Gibson has also authored and lectured on various segments of Illinois Geology for many agencies and associations, some of which include the Illinois State Geological Survey and American Association of Petroleum Geologists. In addition, Mr. Gibson currently serves on the Board of Directors of the Illinois Oil and Gas Association.

Lori Hundley - Office Management
Lori Hundley is the Office Manager and in-house accountant for the various Murvin companies. Ms. Hundley has over 25 years of accounting and bookkeeping experience, both in and out of the oil industry. Ms. Hundley attended Olney Central College from 1979-1981 and graduated with an A.S. in accounting.

Austin Bussard - Senior Landman
Austin Bussard joined Murvin Oil Company in the fall of 2013. Mr. Bussard manages all past and present lease acquisitions, title and curative work. He began his career as an independent landman in the Illinois Basin. He is a 2009 graduate from Eastern Illinois University with a B.A. Degree in Public Relations and Minor in Business Administration. Mr. Bussard was born and raised in Richland County, which has allowed him to capitalize on his knowledge of the region and permitted him to further build effective and productive working relationships. Mr. Bussard is also an active member in the Tri-State Association of Professional Landmen.